Big meal challenges are commonly used by restaurants to attract new customers.
The big meal challenge can be done in several ways, but the basic rule is to eat a large quantity of a meal. For example, eat 10 hot dogs in 10 minutes.
If you are a restaurant owner or manager looking for creative ways to attract more customers or drive sales, try the big meal challenge.
Big Meal Challenge Rules
Decide on the food.
For more than one contestants, stack up equal amounts of food,
The first person to finish or the person who finishes the highest number of plates wins the challenge.
Also, You can do a big meal challenge on your own. If someone says, you cannot finish 10 hotdogs in 10 minutes.
Get the hot dogs
Set a timer
If you finished the 10 hotdogs in ten minutes, you have successfully completed the challenge.
Risks of the Big Meal Challenge
Overeating can lead to bloating and in rare cases, it could result in a ruptured stomach. Also, you should be mindful of your existing health conditions before piling up food in your belly.
Also, if you are taking a big meal challenge, you should consider what you had eaten earlier and any liquids you had consumed before the start of the challenge, especially alcohol.
Surely, you do not want to end up like this woman who had an exploded stomach after loading up on food at Thanksgiving.
Videos of the Big Meal Challenge
There are several varieties of big food challenges you can take. The following videos are good ideas for food challenges.
Big Timmy Burger Challenge
Famous YouTuber Furious Pete who doesn't shy away from any challenge took Big Timmy's Food Challenge and completed it in under 3 minutes.
Smokey's Monster Burger Challenge
Randy Santel takes the undefeated Smokey's monster burger challenge. Will he be the first person to complete the challenge? Find out.
Atlas 10 Stack Challenge
Randy Santel tackles the Hungry Husky's 10 Stack Burger challenge. To beat the 10 Stack Challenge, the contestant has to finish the 10 Stack burger and a large side of french fries in under 20 minutes.
25 Big Macs in One Sitting
Can you eat 25 McDonald's Big Macs in one sitting? That will measure up to about 13,250 Calories. Watch Matt Stonie take the challenge.
8000 Calorie Olympian Challenge
Diets and eating clean are boring, and sportsmen understand the pain of constantly passing on delicious junk food just to maintain a perfect body shape. Australian badminton player Sawan Serasinghe decided to spoil himself after crashing out of the Rio Olympics by eating 8000 calorie worth of Mcdonald food.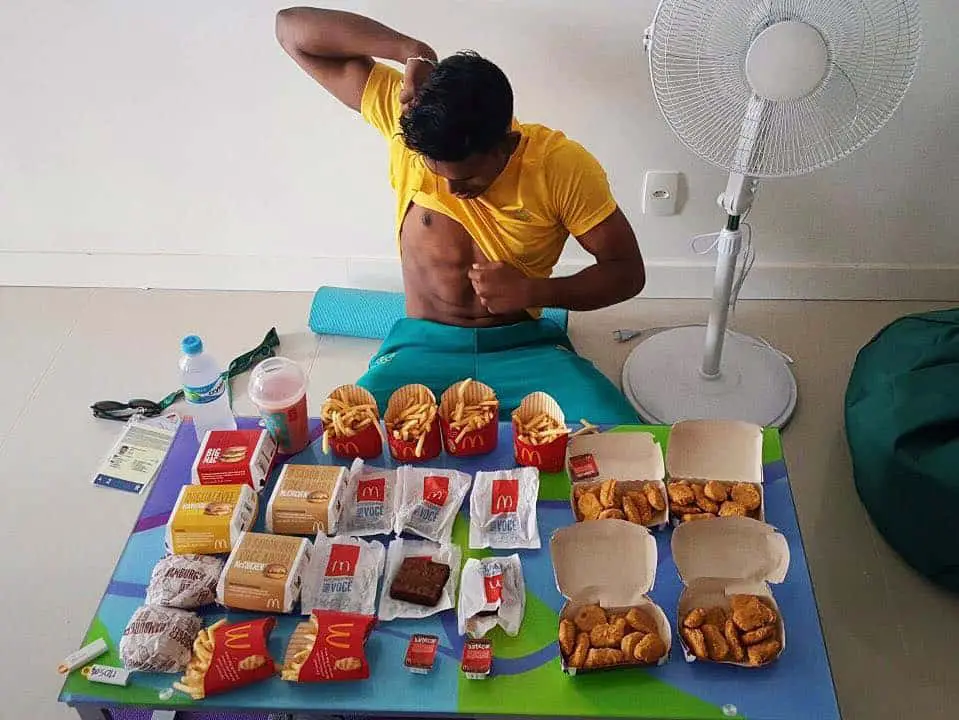 Since Sawan Serasinghe took the 8000 food calorie food challenge, many others have taken the challenge, and one of the best attempts is by Matt Stonie. Watch!
Deaths associated with the Big Meal Challenge
As earlier discussed, every participant must ensure their safety by considering existing health conditions such as allergies, heart defects and any other health challenge.